New Here
Welcome to Calvary Bellflower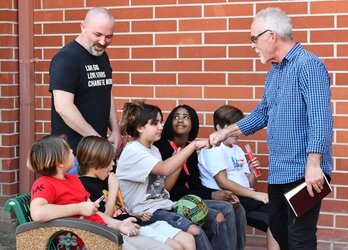 We are a family of fully devoted followers of Jesus who LOVE GOD, LOVE OTHERS, & CHANGE THE WORLD. At Calvary, we are committed to REACH our world for Christ, CONNECT with each other, GROW in our faith, SERVE others in love, and HONOR God with our lives.
Be Our Guest
We meet on Sunday at 10:30am. If you would like to join us online, you can watch our sermons on YouTube and Facebook. Most of us dress casually, but some of us like to dress up. The atmosphere is informal and friendly. The service usually lasts about an hour. Afterward, people often hang around informally for a while and impromptu lunch plans aren't uncommon. You're welcome to join us.
Our service is all about worship of Jesus and includes music, prayer, Bible reading, and preaching. We emphasize what the Bible says about Jesus Christ and teach the relevance of the gospel message for today. We hope the service will be encouraging.
We have groups available during the worship service for children and youth from babies thru 12th grade.
We meet to worship God, to learn from the Bible, and to care for one another. We hope you'll join us!
There is also the option to join us live on Sunday mornings at 10:30am on Facebook and Youtube, or you can watch on-demand whenever is convenient for you.
Watch Live
What To Expect
What Do Sundays Typically Look Like?
What time should I arrive?
The service starts at 10:30am. Arriving at 10:15am gives you time to have coffee and time for someone in the welcome team to say hello.
What should I wear?
There is no dress code or "Sunday best". Just come as you are and wear whatever you feel most comfortable in.
What will happen?
One of the leaders of Calvary Bellflower will get things going, and you might hear some stories of good things that people have seen God doing during the week. The band will lead a time of worship. Words for songs are projected onto a screen and you can stand up or sit down when you like. After worshipping God, there are a few announcements for things that are going on in the life of the church and then one of the leaders will preach from the Bible for 30 mins. The aim of the sermon is to understand the heart of The Father, be filled with the Holy Spirit and live like Jesus extending God's Kingdom. After the sermon we often have time to respond to God and be prayed for.
When will the service finish?
12:00pm at the latest.
Can I leave half way through if I feel uncomfortable?
If you feel uncomfortable, you can leave at any time!
Will I be the "odd one out"?
No. There are people in Calvary Bellflower from every type of background and walks of life . We make a big effort to welcome, be gracious and kind to everyone... because that is the kind of love that God has shown us.
Can I bring my children?
Yes. Children are a big part of the church and they are very welcome. We have a Nursery Ministry, CalvaryKids Ministry, and Youth Ministry which run from 9:00am to 12:00pm.
Can I still come if I'm not a Christian - or even not a very nice person?
Yes. The church is made up of people who know they need Jesus's saving grace in their lives. There are all kinds of people each with their own story who are part of the family at Calvary Bellflower.
Will I be expected to do anything or give any money?
You won't be bored, embarrassed or asked for money (we do take an offering - but its for people committed to the Calvary Bellflower family, not visitors). However you will be warmly welcomed, encouraged in your walk with God - and we hope you would want to come again!
If you have any other questions about Calvary Bellflower or what to expect when you visit...contact us. Hope to see you soon!